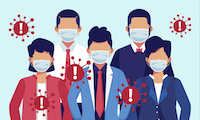 EDPS response to the COVID-19 outbreak
'The outbreak of Covid-19 is affecting our lives at an unprecedented pace. It is testing the resilience of our societies as we respond to this global crisis and try to contain its consequences, both in the short and in the long run'.
Wojciech Wiewiórowski, European Data Protection Supervisor
Covid-19 outbreak is also testing fundamental rights to data protection and privacy. EU Member States, EU institutions and Big Tech companies are trying to explore solutions to tackle the uncontrolled spread of the virus.
In the past weeks, contact tracing apps and data localisation have become a constant topic in the political agenda of the Union. Such technologies may have strong consequences on EU citizens' lives and lead to growing inequalities.
The EDPS is cooperating with the EU institutions and the European Data Protection Board to ensure fundamental rights to be respected.
As a result, we established a Covid-19 task force to follow developments and to prepare for the future of data protection and privacy after Covid-19 crisis.
EDPS activities and action plan
In response to the COVID-19 outbreak, the EDPS has decided to activate its Business Continuity Plan. All EDPS staff have been teleworking as of 13 March 2020.
Read more below
External sources
Blogpost: Data for the public good: Building a healthier digital future
EDPS Formal Comments on the proposed European Health Union package
Blogpost: Carrying the torch in times of darkness
Blogpost: The moment you realise the world has changed: re-thinking the EDPS Strategy