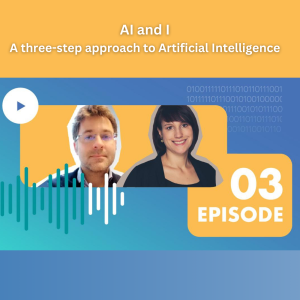 Welcome to the final episode of the three-part podcast series focused on Artificial Intelligence (AI) technologies, created by the trainees of the European Data Protection Supervisor (EDPS) and the European Data Protection Board (EDPB).
In the previous episodes, we discussed the concept of AI and the applications of AI technologies. We also analysed some of the most relevant data protection and human rights issues raised in connection to AI. So far, we found out that AI has the potential to profoundly alter society's way of living and help us solve challenges in many areas such as health, mobility, education and public administration. However, it also poses unforeseen individual and collective risks.
Our third and final episode will focus on the regulatory framework within the EU and the upcoming Artificial Intelligence Act (AI Act). We will cover why we need to regulate AI and what are the main points of the legislation in progress.
We will then take inspiration from the ongoing debate about the AI Act to investigate how the current draft could be further improved. Lastly, we will leave the legalese aside to discover what are the main practical changes that people and individuals can expect in their daily lives with the AI Act.
In order to explore and cast light on these aspects, we have invited two expert in this field that will contribute to this episode and answer our questions: Michèle Finck, Professor of Law and Artificial Intelligence at the University of Tübingen, and Mario Guglielmetti, legal officer at the EDPS and member of the EDPS internal AI Task Force.
This episode is hosted by Christian Ivanov, Carolin Kivioja and Matteo Leffi, and was prepared with the assistance of fellow EDPS and EDPB trainees, Gianluca Ciarfaglia, Gloria Cuesta Noguerales, Elora Fernandes, Alba Montes Reguero and Maria Vardala.
This Podcast was recorded on 13 July 2022.