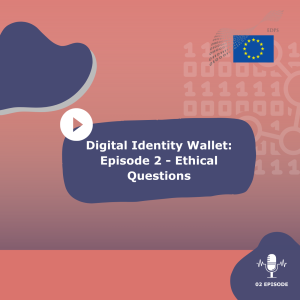 In what ways will the DIW affect the consumer behaviour of citizens, especially of those with low digital literacy? How can the DIW be of benefit to people with a vulnerable background?
Welcome to the second episode of a three-part podcast series focused on the EU Digital Identity Wallet (DIW), organised by the trainees of the European Data Protection Supervisor and European Data Protection Board. The second episode of this podcast, under the name ''Digital Identity Wallet: Episode 2- Ethical Questions'' focuses on the ethical aspect of data protection via a discussion on ethical dimensions in relation to the EU DIW, ranging from accessibility to suggestions for future implementation.
This episode covers how citizens and concretely vulnerable people are most at risk when it comes to the EU DIW and the risks for people with a vulnerable background, especially those who may not have a good grasp of technology. The discussion touches several aspects to be considered, such as health, consumer behaviour, banking and insurance data, as well as suggestions for usage amelioration regarding people of vulnerable background.
This discussion is based on the fact that the EU Commission's statement that EU DIW users should be able to decide for themselves about their online presence and interactions, meaning personal data transfers should require their explicit consent. However, in order to do so, EU DIW users must first be fully aware of how their data may be affected. Furthermore, people with low digital literacy are more at risk. Hence, to tackle this issue, relevant recommendations are discussed with the two speakers, Lina Jasmontaite and Thomas Lohninger.
This podcast is hosted by Paraskevi (Evi) Nikolaidou, and was prepared with the assistance of her fellow trainees, Katerina- Christina Sterianou-Gazila and Daniel Herlihy.
This Podcast was recorded on 27 January 2022.