This page contains a map showing the location of our office premises; our contact details; office closing dates; information on the various ways in which you can contact us, including a link to a contact form; information organisers should read before inviting the EDPS to an event; information on EDPS' patronage of events; and some important security information to read before filling in the contact form.
Our Contact Details
Bruxelles Headquarter
Postal address: Rue Wiertz 60, B-1047 Brussels
Office address: Rue Montoyer 30, B-1000 Brussels
Telephone: +32 2 283 19 00
Strasbourg Office
Postal address: 1 Allée du printemps, Louise Weiss Building, 67070 Strasbourg (France)
Telephone:  + 33 3 88 16 43 46
Email: edps@edps.europa.eu
Website:  edps.europa.eu
2023-2024 Office Closing Dates
2023: 2 January; 6-7-10 April; 1-9-18-19-29 May ; 14-21 July; 15 August; 1-2 November; 25 December to 29 December
2024: 1-2 January; 28-29 March; 1st April ; 1-9-10-20 May; 15 August; 1st November; 23 to 31 December
How to contact us
If you have a general enquiry, would like to invite the EDPS to an event, request information or have an enquiry on your personal data processed by the EDPS please use this contact form to get in touch.
Please note: The EDPS is not competent to deal with issues at national level (for example, those related to national, regional or local authorities, private companies or organisations, or not-for-profit organisations); questions should be addressed to the relevant data protection authority.
Invitations to speaking engagements
The EDPS receives a significant number of invitations to speak at events in the EU and further afield.
As an EU public body, our policy is to make sure that we use our resources appropriately and effectively and that any speaking engagements we undertake actively support our objectives.
As well as promoting our tasks and mission, our principal reason for accepting speaking engagements is to highlight the relevance of privacy and data protection and to raise awareness of the rights of individuals and the obligations of the EU administration.
Where appropriate, we will offer to send an experienced official to speak in place of the Supervisor, when their diaries prevent them from accepting the engagement themselves.
Sometimes, the EDPS will agree to sponsor or co-organise an event. However, resource implications limit the number of opportunities to do so.
We do not sponsor or co-organise events by commercial organisations.
The EDPS does not accept fees for speaking engagements. However, to ensure the best use of public funds, the EDPS also aims to minimise the costs, in terms of both finances and resources, of undertaking speaking engagements, without prejudicing stakeholders with limited resources. Thus, where the Supervisors or members of the EDPS Secretariat agree to speak at a purely commercial event, or at an event where the organisers are charging for attendance and/or other speakers are reimbursed, we would normally expect the organisers to cover the cost of travel and accommodation and, where appropriate, a fee waiver for one or more members of the EDPS staff to attend, as foreseen in its policy.
Where the event organiser offers to pay for part or all of the costs, the speaker is obliged to provide written evidence in his or her travel and/or expense declarations.
Event organisers wishing to display EDPS presentations, logo or descriptions should note that we retain copyright on our materials. Our prior agreement should be sought to use them on website, literature or other medium. We do not accept arrangements which limit us from publishing EDPS presentations on our own website.
All arrangements need to respect data protection obligations.
Patronage
The EDPS considers requests to be a goodwill patron for events that would like to be associated with the EDPS. Such patronage would imply support in kind from the EDPS and does not place the EDPS under any financial obligation, nor does it confer a right to use EDPS' facilities. A limited number of events will be granted such patronage every year. Learn more.
Visit the EDPS
Visits to the EDPS can be organised for specialist groups of 10+ people, such as university students at post-graduate level. Only official requests (for example those sent from an official organisation email address) will be considered.
To arrange a visit, please contact our Events Team at EDPS-Events@edps.europa.eu.
Please note that the EDPS is unable to accept all requests for study visits. For logistical reasons, we ask that you submit your request for a visit at least two months in advance of the desired date of the visit.
Each member of a group will be required to bring an identity document to access our building.
Location Map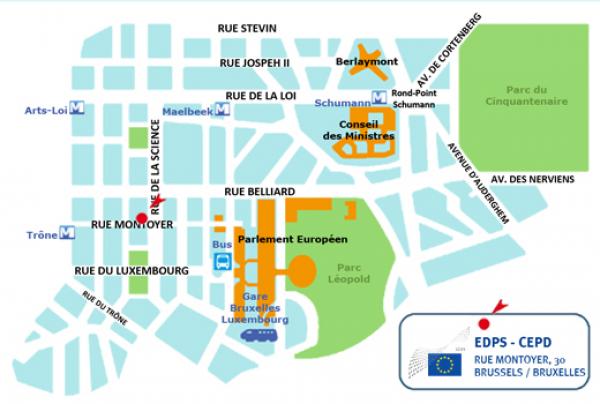 You can reach the EDPS by public transport:
The closest metro stations are Trône/Troon, Arts-Loi/Kunst-Wet and Maelbeek/Maalbeek
The closest railway station is Bruxelles-Luxembourg
The closest bus stop is Place Luxembourg
Important Security Information
The EDPS strives to ensure a high level of security for information shared with us in our contact form such as using Hypertext Transfer Protocol Secure (HTTPS). Nevertheless, communication over the internet, including email, is not fully secure and can potentially be intercepted by persons outside of the EDPS. The EDPS relies on third party services (the European Parliament and the European Commission) to help maintain the security and performance of the EDPS website; the EDPS IT infrastructure is subject to their security measures.