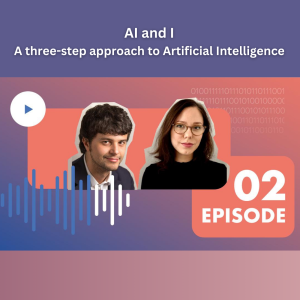 Welcome to the second episode of this podcast series focused on a three-step approach to Artificial Intelligence (AI), organised by the trainees of the European Data Protection Supervisor (EDPS) and European Data Protection Board (EDPB). The second episode of this podcast, "Debating AI. Impact and Challenges of Artificial Intelligence on Human Rights", begins with a discussion on how AI affects human rights.
Present in a wide variety of technologies, from spam filters to weather forecasts, navigation systems and facial recognition cameras, AI is part of our everyday life. Although there is no consensus on what AI is, AI systems are generally used to find patterns by analysing huge amounts of data in order to make predictions or decisions.
AI has proven to have a positive impact on human development. However, with the rise of big data and the possibility to make sense of massive datasets, human behaviour is being monitored even more closely and important decisions are being taken based on correlations that sometimes even developers of AI systems themselves do not understand. This not only impacts the rights to privacy and to the protection of personal data, but also the rights to freedom of expression, non-discrimination, freedom of movement etc.
Our two guest speakers, Karolina Iwánska and Brando Benifei will discuss the numerous aforementioned challenges. More specifically, Ms Iwánska provides us with her expertise on research and policy analysis at the intersection of security, counterterrorism, and technology as Digital Civic Space Advisor at the European Center for Not-for-profit Law. In turn, Mr. Benifei will contribute to the discussion with his experience as Rapporteur for the Artificial Intelligence Act in the Committee on Internal Market and Consumer Protection and as a previous member of the Special Committee on Artificial Intelligence in a Digital Age.
This podcast is hosted by Alba Montes Reguero, Gloria Cuesta Noguerales and Elora Fernandes and was prepared with the assistance of fellow trainees from the EDPS and the EDPB, Carolin Kivioja, Christian Ivanov, Gianluca Ciarfaglia, Maria Vardala and Matteo Leffi.
This Podcast was recorded on 11 July 2022.