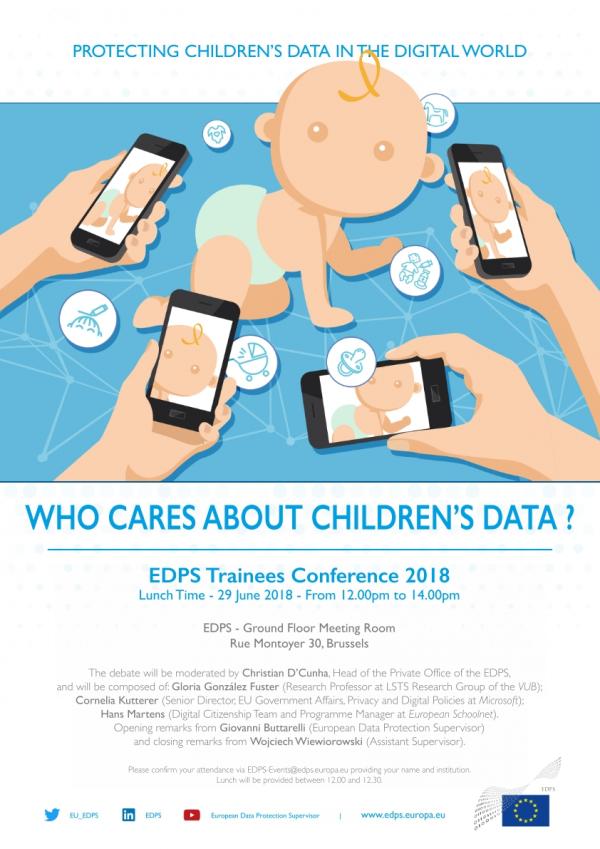 Dear all,
The trainees of the European Data Protection Supervisor (EDPS), are pleased to invite you to our lunchtime conference 'Who Cares About Children's Data?', which will take place on 29 June from 12.00 to 14.00 at the EDPS ground floor Meeting Room (Rue Montoyer 30, 1000 Bruxelles).
The conference is inspired by the fact that the General Data Protection Regulation (GDPR) is the first data protection legislation at EU level that explicitly recognises that minors deserve 'specific protection' of their personal data. Now that the GDPR has come into force, we find it more relevant than ever to address the topic both from a legal and an ethical point of view.
The European Data Protection Supervisor Giovanni Buttarelli will open the debate, moderated by by Christian D'Cunha, Head of the Private Office of the EDPS. Prof. Gloria González Fuster (Research Professor at the Law, Science, Technology and Society (LSTS) Research Group of the VUB), Ms Cornelia Kutterer (Senior Director, EU Government Affairs, Privacy and Digital Policies at Microsoft), Mr Hans Martens (Digital Citizenship Team and Programme Manager at European Schoolnet) will lead the discussion on the topic, which will be followed by a Q&A session. The Assistant Supervisor Wojciech Wiewiorowski will close the event.
Parents or not, eager to start a billionaire business addressed to minors, tired of having your homepage of Facebook and Instagram spammed with photos of babies, or simply curious to try EDPS catering, we know you care about children's data, so we look forward to seeing you there!